UPgrade Revision Courses provide comprehensive exam focused Leaving Certificate & Junior Certificate classes and intensive preparation courses designed to boost exam performance in Portobello House, Dublin 2.
The objective is to supplement and reinforce what students are learning in school using past exam papers with a particular focus on:
Syllabus
Exam Structure
Exam Technique
Marking Schemes
Time Management
Our goal is to boost our student's exam performance so that they improve their prospects of securing their desired 3rd level course. We achieve this by hiring elite teachers to help students prepare effectively in order to maximise their points.
What makes us different?
We are committed to delivering the highest quality exam focused classes and courses at unbeatable value for money.
Small Classes
We limit the numbers in our classes to a maximum of 20 students.
Unique Format
Students receive five 90 minute sessions followed by a full day intensive revision course, a total of 14 hours focused learning.
Interactive
We're not the typical lecture style 'sit and listen' courses. We don't focus on predicting questions, our teachers focus on educating students by enhancing their understanding and equipping them to apply their knowledge in the exam.
Our Teachers
Our skilled, experienced and passionate teachers will prepare and provide course material and notes for students that are designed to support past exam papers.
SPECIAL POST MOCKS OFFER !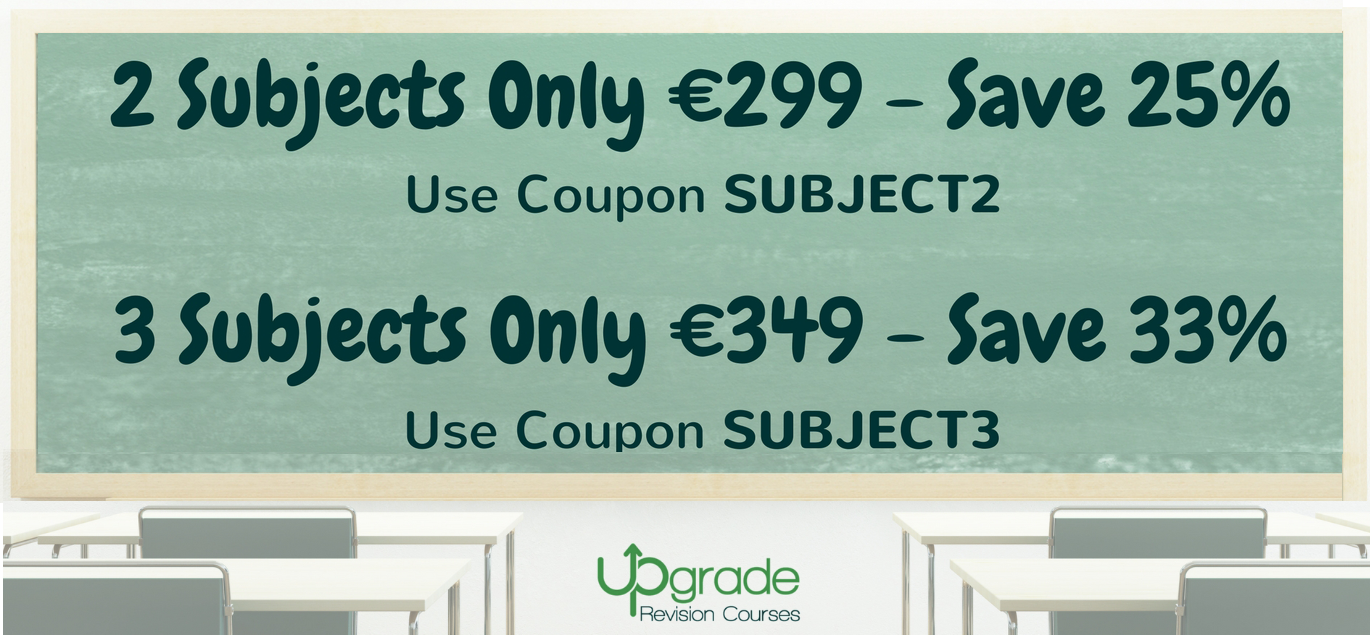 Offer Expires 31st March 2017 !
"My daughter attended the Junior Cert Higher Level Maths course and is now more confident in achieving a good result. Prior to this course, she had lost all of her confidence and felt she was treading water"
-S. Murray-
"Very glad I attended the Leaving Certificate Higher Level Maths course, it was very helpful and I'm delighted with the excellent notes"
– S.Gillic –
Book Your Course Now
Click the link below to book & pay for your course. Book now to avoid disappointment as places are limited and seats are sold on a first come, first served basis.
State Exams 2017 Countdown
Terms & Conditions – Minimum of 5 students per subject course. In the unlikely event that we must cancel a particular subject course, we will give at least 2 weeks advance notice of cancellation.
Refund Policy – All purchases are non-refundable with exception to cancellation, in which case you will be refunded in full.
Privacy Policy – We promise never to share your details (collected when making a booking) with 3rd parties without your prior consent.